Another Carl Anderson Instrument
Additional research has revealed that Carl C. Anderson was active in San Francisco from at least 1893 until 1911. He listed himself in the SF directories as a "musical instrument manufacturer." He seems to have fairly peripatetic, having changed business addresses almost every year. In 1905 (before the earthquake and fire) he listed his address as 106 Golden Gate Ave, in 1907 (after the earthquake and fire) he was at 1205-1/2 Golden Gate Ave, and in 1911 at 804 Polk St. He seems to have worked out of his home because the maps of that period show those addresses as residences.
Keith Duncan of Portland recently found a Carl Anderson "parlor" guitar in a Goodwill in Portland with a hand written label dated 1893. This is the earliest Anderson guitar on record so far.
This small bodied guitar is in good condition for being almost 120 years old, with only a couple of small repairs visible in the photos. The Martin-style bridge looks to be a replacement, based on the marks around it on the top.
Photos courtesy of and copyright by Keith Duncan.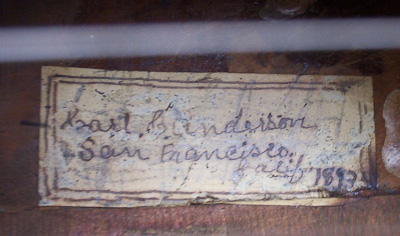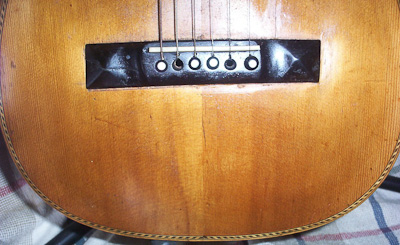 Posted by Charles under Acoustic GuitarsMiscellaneous on 06/20