Shooting the National New Yorker
When David M. Seigler first showed me his National New Yorker lap steel guitar, I was intrigued by its distinctive, art deco appearance. It is finished in glossy black enamel on the sides and back with black plastic fret board. The trim is white plastic and with the round-shouldered shape gives the guitar a very 20's feel.
The guitar, introduced as the Electric Hawaiian in 1937, was in production until 1968 in many model variations. This example has engraved position markers and a 3-position pickup selector marked "Hawaiian," "Chimes," and "Harp."
I wanted to try to capture the art-deco design of this instrument and to emphasize the architectural influences on the shape.
The "catalog" picture of the guitar in front of a gray background shows the overall shape and motif quite well, and gives a good idea of the scale of the instrument.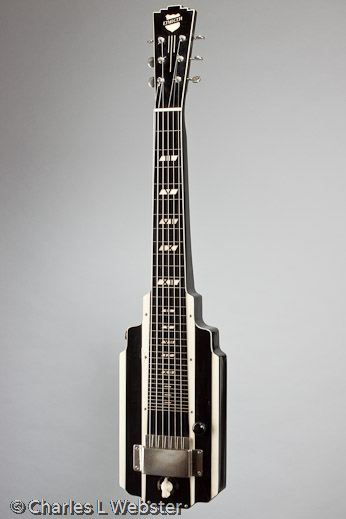 As always, I try to find details that illuminate the whole, and in the case of this guitar, the roman numeral position markers engraved into the fretboard, held captive behind the bars of the strings, gives a glimpse of the nature of the guitar.
I think the most interesting picture from the session is this one, shot on a black velvet background. Since the guitar body is black, it disappears into the background, leaving only the front of the guitar floating in space.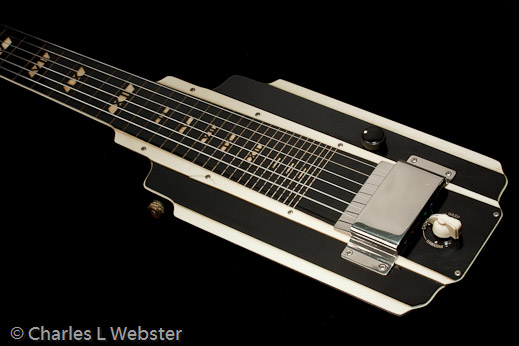 All of these were lit with two strobes in softboxes, one on each side, and a strobe with a 10 deg grid on a boom overhead for accent light. Reflection control is always an issue with instruments with shiny parts, and the New Yorker is no exception. The hand rest over the bridge is bright shiny chrome and required special attention in every shot to ensure that there was nothing unwanted reflected there.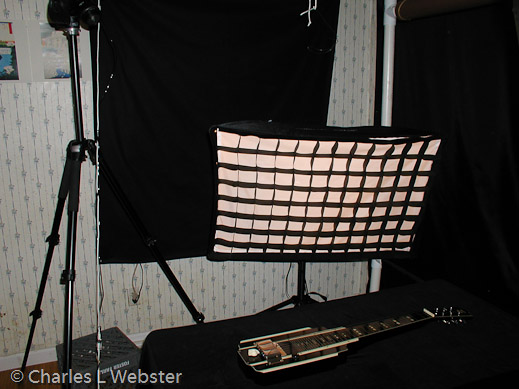 Posted by Charles under Electric Guitars on 04/07